An Ethnology of the Admiralty Islanders
The Alfred Bühler collection, Museum der Kulturen, Basel
The Admiralty Islands are located at the northwestern extremity of the Bismarck Archipelago (Papua New Guinea). The culture of the people of the Admiralty Islands has undergone great changes in the past 100 years - various influences, new ideas, values and products have altered form and functions of the artefacts. Some are still being made and used today. History is contained in objects that were made at a specific time for a specific purpose and in a specific form. As there are not many written documents describing the life in the Admiralty Islands around the beginning of this century, the objects from that time become a very important historical source. They can be found in many ethnographic museums, but they are only rarely well-documented. An exception is the collection in the Museum der Kulturen (formerly the Museum für Völkerkunde), Basel. It was acquired and documented by Alfred Bühler, who did research in the Admiralty Islands in 1932.

The book presents his collection and the knowledge that we (as non-Manusians) have about the material, use and function of the objects. It should help to work with undocumented collections from the Admiralty Islands and hopefully encourage further research as it becomes evident how little we know.

Two introductory parts deal with the Admiralty Islands in general - their position, their population and languages - as well as with the ethnographic research in the region (a historical overview, details about the research mission of Bühler and the list of collectors and acquisitions by the museum Basel).

The main part of the book is devoted to a presentation of the artefacts. The museum objects and our knowledge about their production, use and function are systematically presented. The whole collection is classified into categories formed by the criteria of social function, utilitarian form and material. The twelve main categories are: clothing and adornment; implements used for obtaining food; implements for crafts; containers; utensils for cooking, eating and domestic use; house and housing gear; navigation; music; toys; weapons and hunting equipment; and raw material. These categories are again divided into smaller groups of object-types. Each object group is presented in the same way: photo of a type-object, available information about the origin of the objects in the collection (village), the local name(s), notes regarding the material, the technique of production, the use and the function of it. Where available there is also a field photograph made by the collector or the author showing the use of the object.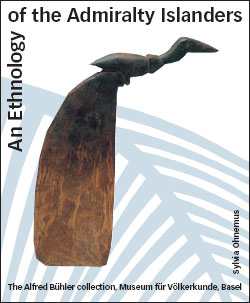 AUTHOR:

Sylvia Ohnemus
STATUS:

Back List
PRICE:

$76.95
ILLUSTRATIONS:

392 black-and-white and 53full-colour photographs; 82drawings; maps
FORMAT:

Portrait; hardcover; xii + 430 pages
DIMENSIONS:

240 x 210 mm
ISBN:

1863331328