Fifteen Hundred Down the Murranji
This is the true story of Bob Lunney, who, as a seventeen-year-old, joined a droving team on one of the last epic long-distance cattle drives in Australia, when road-trains were beginning to make such treks obsolete. The story is drawn from notes scribbled in an old exercise book during the trip.

The tale begins at Elliot, a store, police station and scattering of houses about 400 miles south of Darwin, in the Northern Territory of Australia. Lunney was on his way to Tennant Creek from Darwin, having been lured by the prospect of big money in the goldmines. He had hoped to save enough money in a few months to pay for his training as a pilot. But when the bus on which he was travelling stopped for a meal break, he met Les and Sandy Little. The Little brothers were drovers on their way up the Murranji Track to 'Willeroo Station', 299 miles north-east of Elliot. There they would pick up cattle to be driven to Queensland. Convinced by the Littles that the wild lifestyle of the Tennant Creek miners would separate him from his money faster than he could earn it, and inspired by the epic film The Overlanders, starring Chips Rafferty, the starry-eyed Lunney impulsively agreed to join the brothers. He was to find that life as a drover was a lot less comfortable and romantic than watching a movie.

What followed was a grinding round trip of 920 miles, 290 miles from Elliot to 'Willeroo' up the Murranji, then 630 miles back down the track and across to 'Rocklands', near Camooweal, Queensland. The cattle averaged only 8 miles a day for the journey, at only 6 miles a day during the first half. Lunney learnt within two days that he was neither the horseman nor the fighter that he thought he was, and the journey became a rite of passage, during which he grew up through bitter experience.

This story is not a bald recitation of facts, figures and distances, or a monotonous travelogue, or a litany of topography, botany, statistics, agronomy, geology and animal husbandry, though it contains elements of all of these. Rather, it is the well-told tale of a true-life adventure, with all of the classic elements of drama, conflict, danger, humour and pathos, as seen through the eyes of the youthful Lunney. The story is also uniquely Australian, and tells of a lifestyle which is now only part of our memory.

Lunney says that although he does not regret having made the journey which helped mould him from boy to man, it was his first such trip and definitely his last.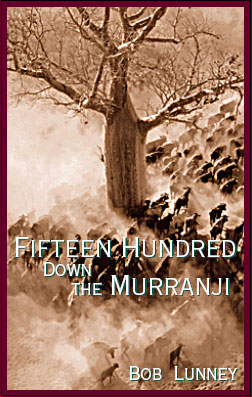 AUTHOR:

Bob Lunney
STATUS:

Back List
PRICE:

$21.95
ILLUSTRATIONS:

Maps
FORMAT:

Portrait; softcover; viii + 200 pages
DIMENSIONS:

215 x 135 mm
ISBN:

1863331417