Understanding Contemporary China
As China's importance in the world's economy and political structure grows, so too does the number of books discussing it. For the teacher of introductory courses, that is a mixed blessing. Keeping current with the research requires increasing amounts of time, and bibliographical searches reveal that most of the works pertain to topics too particular and advanced for students with little prior knowledge of China. Few are designed especially for such students.

Understanding Contemporary China was conceived to address this problem. It brings together a number of scholars who both have published extensively on China within their varied disciplines, and who teach introductory courses about China. The enterprise was conceived of and entered into with a strong sense that such a book was missing and needed. The contributors have created a single text with readable chapters that introduce China from the perspectives of a number of disciplines. These chapters not only give overviews, but also emphasise issues currently being researched - complete with bibliographic citations, so students can look into those sources themselves and also find other introductory texts offering additional information on different topics - and are highlighted with facts, narratives, experiences and observations derived from the authors' close personal contacts with China.

Because the chapters are designed to be complete in themselves they can be assigned individually. Yet they cover a number of complementary themes, introduced in Chapter 1, to which each succeeding chapter adds form, focus and nuance. This makes the book useful for courses offering broad multidisciplinary coverage of China, as well as courses that approach it from the perspective of a particular discipline.

Some of the topics covered - geography, history, politics, economy, family and kinship, religion, literature, and international relations - are essential components of any introduction to China. Others - such as discussions of the environment, the roles and problems of women, popular culture, sexuality, demographics, and urbanisation - are important topics that are often ignored in introductory works. All chapters give historical overviews along with a discussion of the most current events and the problems and prospects facing China in the future.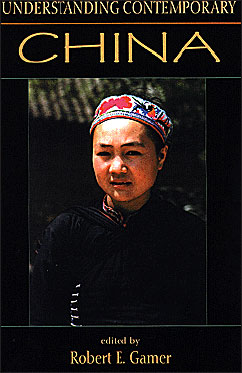 AUTHOR:

(edited by) Robert E. Gamer
STATUS:

Back List
PRICE:

$49.95
ILLUSTRATIONS:

45 black-and-white photographs, 10 maps and other illustrations
FORMAT:

Portrait; softcover; xvi + 416 pages
DIMENSIONS:

225 x 145 mm
ISBN:

1863331832