Where Our Hearts Still Lie
A Life of Harry and Honor Maude in the Pacific
Robert Louis Stevenson's stories of his travels in the South Seas have inspired countless readers to follow in his footsteps and experience for themselves the seductive beauty of the Pacific Islands and their peoples. One of those readers was the twelve-year-old Harry Maude, adapting painfully to lonely boarding-school life in England after a childhood spent within a large household in the heat and noise of India. He in turn would arouse the enthusiasm of the young Honor King who, like Stevenson, was troubled by respiratory problems after a childhood spend in Edinburgh, and in search of a kinder climate and persuade her to join him.

So in 1929 the newly wedded Harry and Honor Maude set off for the Pacific, with little more than a yearning for a life together, free from the constraints and prejudices of England, in Stevenson's innocent isles. They found their youthful dreams more than fulfilled, not in lush Tahiti or Samoa, but in the remote and little-known coral atolls of the Gilbert Islands, 'where every day was to prove a fresh and joyous adventure of living'. Unlike Stevenson, the Maudes would not end their days in the islands, and no memorial stands to their lives there. Dietary deprivations, long periods of separation, war, philosophical and strategic differences with service colleagues, financial security considerations, and the uncertainties engendered by a changing economic and political climate were ultimately to take their toll. Yet the islands where they spent twenty years were always to be as Honor wrote from unhappy exile in Zanzibar in 1936 where our hearts still lie, and they would spend the rest of their long lives researching and writing about them.

This story of their lives was begun when the Maudes realised they had left it too late to write their autobiography. Harry's failing eyesight and Honor's increasing frailty as they reached their nineties precluding further research and writing. In 1995, I had prepared an exhibition and brief publication about the life and work of the Maudes, to commemorate the gift of their papers to the Barr Smith Library at the University of Adelaide, which had previously acquired their extensive Pacific library. With their support, that brief publication has been extended to a fuller account.

While independently researched, this 'life' is based largely on the Maudes' extensive collection of personal papers, supplemented by interviews and by additional notes dictated by them between 1996 and 1998. The periods and incidents given emphasis are those they chose to observe, record and recall: the Maudes are the principal source of and commentators upon the matters presented. The personal characteristics, childhood and educational experiences, social background, class status and political leanings that may have motivated their choices in life, and their reactions to the challenges of authority, isolation, cultural contacts, friendships, conflicts and losses, failures and achievements, are depicted in the text without overt mediation or interpretation. Readers may use the account to make their own judgements and conclusions, or perhaps to write their own stories or interpretations. This karaki is for Honor and Harry.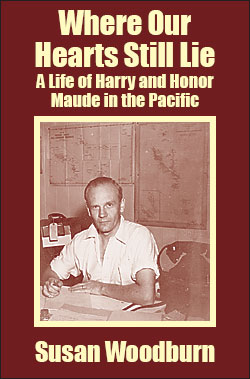 AUTHOR:

Susan Woodburn
STATUS:

Back List
PRICE:

$39.95
ILLUSTRATIONS:

50 photographs
FORMAT:

Portrait; softcover; c. 350 pages
DIMENSIONS:

204 x 135 mm
ISBN:

1863332456