Among Art-Loving Cannibals of the South Seas
(English translation of the 1916 German edition)
Synopsis:

A wonderful early ethnography. Elisabeth Krämer-Bannow was one of the first white women to explore islands of the South Pacific. In 1908, she accompanied her husband Augustin Krämer, a doctor and South Pacific explorer, to New Ireland, at that time a German protectorate called Neu Mecklenburg.

She was the only female member of the expedition. Her job was to research the lives of the native women, as this task had proven to be too difficult for male anthropologists.

As an artist, she was also in charge of painting the natives, their houses and the local flora and fauna. She developed her own method of research: observe and experience, do not ask questions. She encountered two obstacles: at the beginning she was unfamiliar with the local language and the native women were very shy and not as talkative and approachable as the men. Sitting quietly in a village among the native population while painting and drawing them and their surroundings proved to be a useful means to gain the women's trust. Thus she learned about agricultural, craft techniques, traditions and the arts.

However, only through her female interpreter and informant, Bariu, was she able to gain insight into the intimate areas of pregnancy, birth and abortion, also local concepts of beauty.

She spent 6 months on the island. During that time she and her husband covered about 1000km on foot. Although her accounts of those treks and some rather spectacular, breathtaking adventures, they were the first white people to visit many regions of New Ireland. Most of their journeys were in fact dangerous since large sections of the native population were hostile to colonisation efforts by Europeans. But as Augustin Kramer said: 'Life in such a beautiful country would be agony if one suffered from cannibal phobia'.

In her book, Elizabeth takes a critical view of mistakes made by the colonial administration, the missions, exploiting plantation companies, greedy collectors and recruiters of workers for the plantations. Instead of spoiling the native cultures with European materialization, she wanted to preserve the local architecture, crafts, trades and body adornment.

Contents:

Foreword by A. Krämer
The South
Journey to Central New Mecklenburg
The Central Region
Journey to the West Coast via New Pomerania
The West Coast
The Final Days in Lamasong
Lelet
The North of the Island
Annotations by A.Krämer

Translator:

Waltraud Schmidt is a NAATI certified translator who received a bachelor's degree in German, English and Geography (with Honours) at Freiburg University In 1974, now lives in Adelaide and teachers German.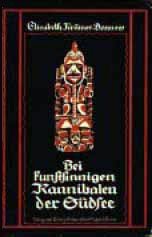 AUTHOR:

Elisabeth Kramer-Bannow
STATUS:

Back List
PRICE:

$49.95
ILLUSTRATIONS:

140 b/w illustations, maps
FORMAT:

Soft cover, jacket, 284pp
DIMENSIONS:

240 x 155mm
ISBN:

1863332995