Lady Daria & Mister Kamadonga
A Legend of Papua New Guinea
Daria, an outstanding woman who is widely known from oral tradition in north-eastern New Guinea, gains life through our reading about her deeds in 31 variants. These were collected by various scholars and the author, who developed a structural analysis. John Z'graggen, a linguistwith a profound interest in religious thinking, presents a fascinating view of Daria's personality.

He encourages readers to make their own judgments in comparing the local variations oftelling how Daria is bringing male genitals, but also dogs, pigs, betel nuts, shell ornaments, and, not least, fire to Kamadonga.

Daria also teaches women in a separate move the way of how to give birth safely. On her legendary wanderings she creates many rivers and creeks along the coast, too.

The bulk of these texts were collected between 1976 and 1986, and then translated from the local Melanesian Pidgin. They evoke a lively picture. In following the story-tellers' own views about their main themes we learn how, up to the most recent past, village people from different linguistic backgrounds reflected both on the role of extraordinary individuals in their village society as well as on what linked them with their partners in trade and ceremonial exchange.

Dr John Z'graggen majored in linguistic studies and is an expert on PNG myths and legends.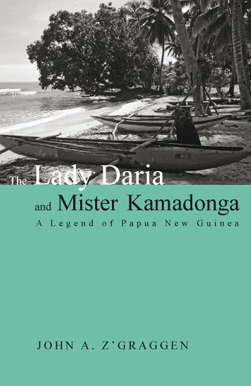 AUTHOR:

John Z'graggen
STATUS:

New Release
PRICE:

$49.95
ILLUSTRATIONS:

70 photographs + 9 maps
FORMAT:

Soft cover, 322pp
DIMENSIONS:

240 x 155mm
ISBN:

1863333313