My Life on Karkar
Sir John Middleton has a very long association with the island of Karkar, part of Madang Province of PNG. His father Max took up land there in the mid-1920s. Most of his adult life has been spent there apart from the war years.

After Max returned from active duty, John helped his father rebuild the Kulili Estates plantations, which had been damaged by the Japanese, into successful copra and cocoa plantations. Since his father died he has continued to manage the estates together with his two sons. Today, the estates are totally powered by means of bio-fuel extracted from the coconut while cocoa is the main trade item.

In the 1960s, Sir John ventured into politics and was a member of the House of Assembly and a member of the PNG Parliament from 1968 to 1977. From 1977 to 2009 he served on various Boards of Directors, and was a foundation director of Ramu Sugar.

For his services to PNG, Sir John was granted an OBE, and was knighted by the Queen in 2003.

The book is based on his personal recollections and records and contributions from his family and friends, and provides a colourful picture of the intricate life on Karkar Island.

PNG specialist, James Sinclair, has written PartI which provides the historical background to the Middleton's Karkar plantations including Max's early life and wartime escapades. Includes index.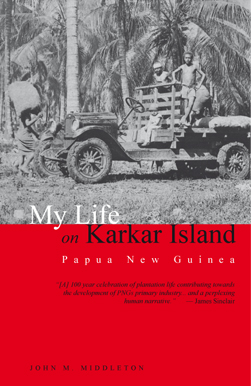 AUTHOR:

Sir John Middleton with Part 1 by James Sinclair
STATUS:

New Release
PRICE:

$39.95
ILLUSTRATIONS:

80 colour photographs + 2 maps
FORMAT:

Soft cover, 367pp
DIMENSIONS:

240 x 155mm
ISBN:

1863333320