Ceremonial Houses of the Abelam - Papua New Guinea
Architecture and Ritual - a Passage to the Ancestors
The ceremonial houses of the Abelam people (East Sepik Province, Papua New Guinea) rank as architectural masterpieces.

This book offers a unique documentation of the architecture of the different styles of ceremonial houses according to region, their mode of construction and the impressive facade paintings. It goes on to explain the social networks responsible for the construction and main- tenance of such ceremonial houses; a crucial agent of social formation. The integrative and consolidating force that emanated from a ceremonial house and the ritual arena associated with it, not only shaped social life in the village but also defined the communion between humans, clan ancestors and mythical creative forces.

Up to the late 1980s, knowledge concerning the construction and meaning of ceremonial houses was passed on to the next generation by means of practice (learning by doing). However, since then the Abelam have converted to Christianity and turned their backs on traditional belief and knowledge: they no longer build ceremonial houses, initiations are a matter of the past, and pigs, domesticated as well as semi-wild, which used to be focal to religious life in earlier days have been discarded. All this has changed the face of Abelam culture radically and the knowledge concerning the construction of ceremonial houses is now all but lost.

The author presents an extensive description and analysis of Abelam society at a time when the people were still building ceremonial houses, staging initiations and sacrificing pigs. The magnificent edifices constituted the spatial, social and religious pivot of Abelam culture. This work presents a cultural record of what on longer exists. An essential book for all architects and anthropologists interested in traditional methods and style.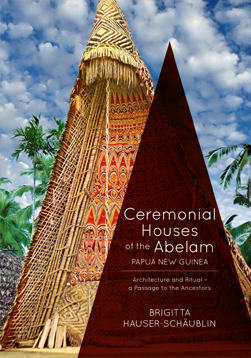 AUTHOR:

Brigitta Hauser-Schäublin
STATUS:

New Release
PRICE:

$49.95
ILLUSTRATIONS:

88 photographs - B/W & colour, 25 line drawings and maps
FORMAT:

Paperback, 205 pp
DIMENSIONS:

175 x 250mm
ISBN:

9781863333443